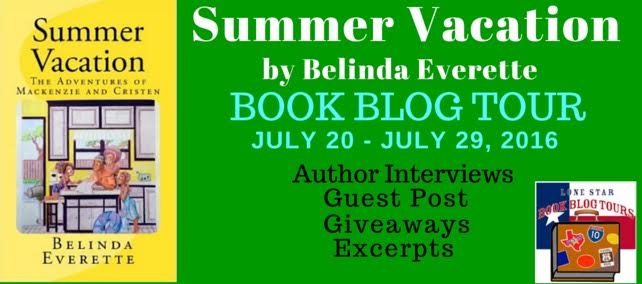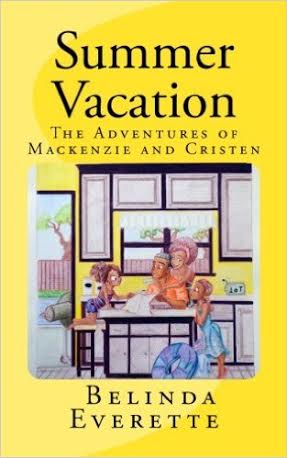 Summer Vacation
by
Belinda Everette
Genres:
Children's Books
Format:
ARC
Buy the Book
•
Goodreads
It's the beginning of summer and Uncle Mike and Aunt Melanie invite Mackenzie for an extended summer vacation in their hometown of Houston, Texas. On the first day, Mackenzie finds her cousins, Cristen and Chloe, helping their parents prepare a special meal. Come and learn about the holiday and celebration of Juneteenth with this first book in The Adventures of Mackenzie and Cristen, a cultural journey of joy, family, and fun! 



Summer Vacation is the first installment in The Adventures of Mackenzie and Cristen, a five part journey of family love and fun.  Each adventure finds the cousins learning history, exploring cultural themes and traditions, and discovering the joy in the world around them.
 The Adventures of Mackenzie and Cristen
 Book One, Second Edition
 by 
 Belinda Everette 
Genre: Middle Grade / Contemporary Fiction
Date of Publication: June 12, 2016
Scroll down for Giveaway!
A super fast, super fun read, full of facts and information for young and old readers alike. My son Michael and I learned so much just from reading this little nugget. The History of Juneteenth is explained in very basic dialogue perfect for kids to be able to understand. In addition to the easy to follow and entertaining story line, the book comes with educator materials to use in your classroom. Diverse in content and characters, Summer Vacation is a book every library should have on hand.  ~Margie

This book was very interesting. It made me want to research more about this holiday because I had never heard of it. It made me wonder why Texas took so long to free the slaves that should have been free with the Emancipation Proclamation. I am glad I read this book and if we talk about it in school this year, I will be able to recommend this book. ~Michael 

PRAISE FOR SUMMER VACATION:
"I read Summer Vacation by Belinda Everette.

 

I thought it was educational regarding the true history of Juneteenth and portrayed realistic events in the lives of the characters.

 

I did pass it on to one of my daughters with a special interest in children's books.

 

This seems to be a good moment for this kind of story, with increased interest in African-American history with readers of all ages."
 — Ronne Hartfield, Co-Chair, Harvard University Arts Education Council, Executive Director, Art Institute of Chicago, Author
"Summer Vacation is very good.

 

This book is entertaining and informative.

 

The author has given us a unique way of presenting history to our children.

 

This book should be published in Spanish and other languages to share this history with other cultures."
Like most people, when life throws lemons, you make lemonade and that was certainly the case for Belinda Everette, the author of The Adventures of Mackenzie and Cristen book series.

  

After twenty-six years as a Senior Vice-President for several Fortune 500 financial institutions, life circumstances required a change.

 

Belinda put down her briefcase, enrolled in Rice University's creative writing program, and began to pursue her lifelong dream of writing. 
When not writing, Belinda supports several of her favorite charities which focus on providing housing and improving living conditions for those in need, including Houston's Star of Hope, Covenant House, and Houston Achievement Place.
"Family is my greatest joy," Belinda adds "nothing is better than a houseful of family and friends with lots of children running around, enjoying a delicious meal and good Christian fellowship."

 

Cooking, entertaining, and music along with daughter Ashley, son-in-law Ron, and grandchildren, Mackenzie and Evan, keep live full and happy.

 

Belinda and her constant companion, a four-year old Shih Tzu, reside in suburban Houston, Texas.
GIVEAWAY!
GIVEAWAY!
GIVEAWAY!
1 Grand Prize Winner wins:
Signed Copies of Summer Vacation  and It's Just A Song, plus a tote bag
2 Other Winners each win:
Signed Copies of Summer Vacation plus mouse pads
blog tour services provided by:
Save
Save
Save
Related Posts