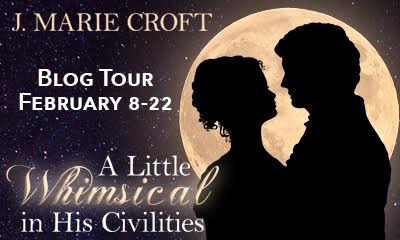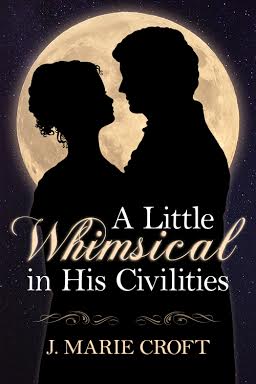 A Little Whimsical in His Civilities
by
J. Marie Croft
Published by
Meryton Press
Genres:
Austenesque
Format:
eARC
Buy the Book
•
Goodreads
Told entirely from Fitzwilliam Darcy's point of view, J. Marie Croft's humorous novella, A Little Whimsical in His Civilities, spans one moonlit, autumnal night upon the gentleman's return to Hertfordshire in pursuit of Elizabeth Bennet.

"We take the turning which places us on Meryton's main road, and—oh, gad! There it is—the base-court building which passes for an assembly hall in this godforsaken place. For me, the venue shall be either a heaven or a hell tonight. My palms grow clammy, my gut churns, and I regret that second helping of onion-laden vegetable pie forced on me before we left."

Accompany Darcy as he, intent on reversing the disastrous first impression he made there, braves another Meryton assembly and seeks to win his heart's desire.
I love being inside the mind of my beloved Mr. Darcy!  I think J.Marie did a fine job of capturing Darcy's mannerisms, his adorable awkwardness and his captivating civility! It was endearing!
Although a novella of 60 pages, I feel this book is wonderful. It was a fast and funny read!  Perfect for the JAFF lover or the Fitzwilliam Darcy Obsessed!
Related Posts