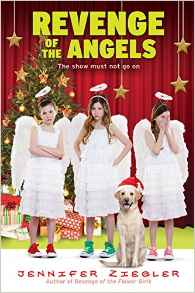 Revenge of the Angels
by
Jennifer Ziegler
Genres:
Children's Fiction (Tween)
Buy the Book
•
Goodreads
The Brewster triplets from Revenge of the Flower Girls meet The Best Christmas Pageant Ever, in a new, sweetly hilarious holiday story from Jennifer Ziegler!

When we last saw them, Dawn, Darby, and Delaney Brewster stopped their big sister from marrying the wrong guy, proving that they can accomplish a lot when they work together. Now, they are turning their smarts and high-energy hijinks to something completely different: their local Christmas pageant! They've been practicing looking wise and stroking long, fake beards in preparation for their roles.

But what if they're not cast as the wise men? What if instead they have to play angels in the pageant? Distasteful. Deplorable. Dreadful. And it's not like anything else is going their way this holiday season, either. Can the triplets figure out what to get for their mom, solve a mystery about a stolen Santa, and recover their holiday spirit in time for the pageant? Of course they can! And they'll do it with humor and charm, or they're not the Brewster triplets.
Related Posts