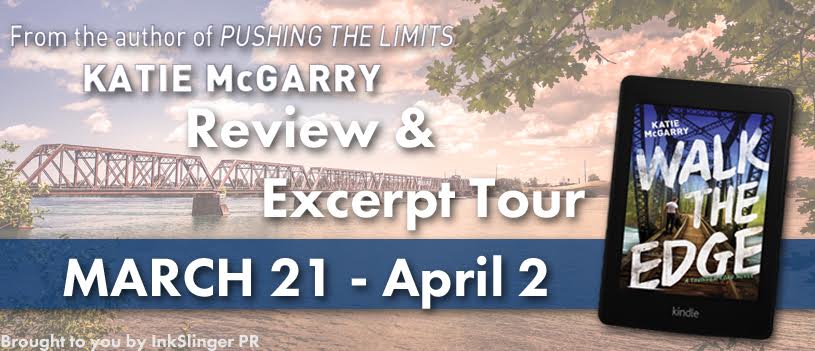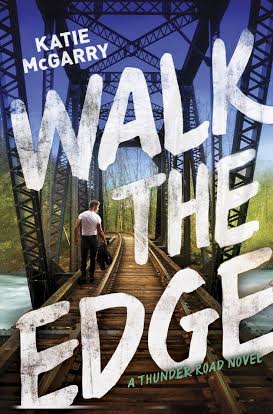 Walk the Edge
by
katie McGarry
Series:
A Thunder Road Novel #2
Genres:
Coming of Age
,
Young Adult
Format:
eARC
Goodreads
One moment of recklessness will change their worlds 

Smart. Responsible. That's seventeen-year-old Breanna's role in her large family, and heaven forbid she put a toe out of line. Until one night of shockingly un-Breanna-like behavior puts her into a vicious cyberbully's line of fire—and brings fellow senior Thomas "Razor" Turner into her life. 

Razor lives for the Reign of Terror motorcycle club, and good girls like Breanna just don't belong. But when he learns she's being blackmailed over a compromising picture of the two of them—a picture that turns one unexpected and beautiful moment into ugliness—he knows it's time to step outside the rules. 

And so they make a pact: he'll help her track down her blackmailer, and in return she'll help him seek answers to the mystery that's haunted him—one that not even his club brothers have been willing to discuss. But the more time they spend together, the more their feelings grow. And suddenly they're both walking the edge of discovering who they really are, what they want, and where they're going from here.
Gah! Katie McGarry does it again! The Brooding Bad Boy and a Brainy Betty are my absolute favorite type of couple!  The chemistry between these two is palpable, you are hooked from the moment they meet!  The slow build, the perfect pace, the believable, yet heartbreaking story line made this book my favorite of Katie's books so far. I am so glad I Walked The Edge with Razor and Breanna.
Katie McGarry is a YA Rockstar!  She is loved by all the students who visit my high school library!  Her words embed themselves on the hearts and in the souls of her readers. She is a go to author young adults seek when times are tough, when they need to feel they are not alone and they need to see themselves in books.  Her books touch lives. She is amazing! 
We had an author visit from author Simone Elkeles earlier this month and one of our students asked her if she ever had thought of writing a book with Katie!  What an awesome collaboration that would be! 
A seriously sexy, seriously swoony, YA Romance that will take you on a serious emotional ride.
I can't wait for book 3 ( Violet and Chevy's story) in this exciting Motor Cycle Club Series!
Katie and Me!!  Austin Book Fest 2015!
 
I know that the capital of Bolivia is Sucre. I know that the average distance from the earth to the moon is 238,900 miles. I also know that blue whales can go six months without eating. Random, bizarre stuff. That's what my head is full of. Nothing that will boost my math scores on the ACT or secure me a date to prom. Nothing that will save me and my best friend from this being our last day on the planet.
While my brain is obviously wired differently, there are certain common sense rules all girls in town comprehend. It's not knowledge that has to be taught, like when I was six and my oldest brother spent weeks teaching me to tie my shoes or how at four my older sister spared a few minutes from her overly important life to show me how to spell my name.
In fact, sitting here on the top step to the entrance of Snowflake High watching this potential disaster unfold, I search my memory for the first person who warned me to steer clear of the Reign of Terror Motorcycle Club.
There was no pamphlet handed out during health class. No sex conversation like the one my mom had with me in Kindergarten because I referred to a certain male body part by the same name as a round toy. Stupid brothers teaching me their stupid slang.
But when it pertains to the threat that is the Reign of Terror MC, it's not learned, it's known. Like how an infant understands how to suck in a breath at the moment of birth or how a newborn foal wobbles to his legs. It's instinctual. It's ingrained. It's fact.
"Do you think his motorcycle will work this time?" Addison asks.
"Hope so," I breathe out, too terrified to speak at a normal level in fear of drawing the scrutiny of the men wearing black leather vests who circle the broke-down bike. Reign of Terror arches over the top of the black vest, in the middle is a half skull with fire blazing out of the eye sockets and drops of fire rain around it. It's ominous and I shiver.
Addison and I sit huddled close. Legs touching. Shoulders bumped into the other. We'd probably hold hands if we didn't have our welcome back to school information folders gripped tightly to our chests. Because we can't spawn eyes in the back of our head, we lean against the large pillar of the overhang so no one can sneak up on us from behind.
It's edging toward nine in the evening but the August sun hasn't completely set. Darkness, though, has claimed most of the sky. Temperatures during the afternoon hit over a hundred and I swear the concrete stairs and pillar absorbed every ounce of today's sunshine and is not transferring the heat onto my body.
Sweat rolls down my back and I shift to peel my thighs off the step. Why I thought it was a fantastic idea to wear the jean skirt, I have no idea.
I take that back. I do have a clue for my clothing choice. Tonight is the first time my entire grade was together in one room since the end of last year. My goal for the year may seem simple to some, but to me, it sometimes feels impossible. I'd like to be seen, to be known as something more than freakishly smart Breanna Miller at least once before I leave this town. I'd like to somehow find the courage to be on the outside who I am on the inside.
An annoying sixth sense informs me that I'm about to make a huge impression—on the evening news: two friends on the verge of starting their senior year vanish without a trace. Because that's how motorcycle clubs would handle this—they'll kidnap us and then hide our bodies after they're finished with whatever ritual act they'll use to perform.
My knee begins to bounce. Mom and Dad left after my failed attempt to convince them to let me attend High Grove Academy and they promised to return in time for pickup.
The senior welcome session ended at eight and the parking lot cleared out by eight twenty. The straggling parents arrived by eight thirty and that left Addison and me alone with blond-haired biker boy and his dilapidated machine.
He called his buddies around the same time I tried the various members of my family for the fiftieth time. His gang showed in a chrome procession in less than ten minutes. I'm still waiting to hear from anyone I'm related to.
Katie McGarry was a teenager during the age of grunge and boy bands and remembers those years as the best and worst of her life. She is a lover of music, happy endings, reality television, and is a secret University of Kentucky basketball fan.
Katie is the author of full length YA novels, PUSHING THE LIMITS, DARE YOU TO, CRASH INTO YOU, TAKE ME ON, BREAKING THE RULES, and NOWHERE BUT HERE and the e-novellas, CROSSING THE LINE and RED AT NIGHT. Her debut YA novel, PUSHING THE LIMITS was a 2012 Goodreads Choice Finalist for YA Fiction, a RT Magazine's 2012 Reviewer's Choice Awards Nominee for Young Adult Contemporary Novel, a double Rita Finalist, and a 2013 YALSA Top Ten Teen Pick. DARE YOU TO was also a Goodreads Choice Finalist for YA Fiction and won RT Magazine's Reviewer's Choice Best Book Award for Young Adult Contemporary fiction in 2013.

Check out all of the WALK THE EDGE tour stops here!
March 21st
Grownup Fangirl – Excerpt
Book Sniffers Anonymous – Review
Broc's Bookcase – Review
BookWorm221 – Review & Excerpt
Take Me Away To A Great Read – Review & Excerpt
Dark Faerie Tales – Review
Lost in Literature – Review & Excerpt
Always YA at Heart – Review & Excerpt
The Unofficial Addiction Book Fan Club – Excerpt
March 22nd
Book Boyfriend Reviews – Excerpt
Letter shelves blog – Review & Excerpt
Oh My Shelves – Excerpt
SnoopyDoo's Book Reviews – Excerpt
Milky Way of Books – Review & Excerpt
Mary Had a Little Book Blog – Review & Excerpt
Tween 2 Teen Book Reviews – Review & Excerpt
March 23rd
A girl and her books – Review
Eye in Bookland – Review
Under the Covers – Review & Excerpt
the bookdragon – Review & Excerpt
Lost in a Book Blog – Excerpt
Cesya MaRae Cuono, Author – Excerpt
Emilie's Book World – Review & Excerpt
No BS Book Reviews – Review & Excerpt
March 24th
Angel Reads – Review
Ineffable Book Blog – Review
LucyLicious Reads – Excerpt
YA Book Divas – Excerpt
Movies, Shows & Books – Excerpt
Peace Love Books – Excerpt
BookCrushin – Review & Excerpt
March 25th
So Bookalicious – Review & Excerpt
LuLo Fangirl – Excerpt
Little Read Riding Hood – Review & Excerpt
Gabic Reads – Excerpt
2 Greek Girls Reading – Excerpt
Chasing Faerytales – Review
Eat, Sleep, and Read – Review
HotPressedBooks – Review & Excerpt
March 26th
Margie's Must Reads – Review & Excerpt
Girl Plus Books – Review & Excerpt
Short and Sassy Book Blurbs – Review & Excerpt
A Dream Within A Dream – Excerpt
The Consummate Reader – Review & Excerpt
Curled Up and Cozy – Review & Excerpt
Becky on Books – Review & Excerpt
Brittany's Book Blog – Excerpt
March 27th
Beauté De Livres – Review
Lita's Book Blog – Review & Excerpt
Oh My Growing TBR – Review & Excerpt
Rachel's Book Reviews – Review & Excerpt
Have Words Will Scribble – Review & Excerpt
Cocktails and Books – Review & Excerpt
Library Linsey's Teen Books & Baubles – Review & Excerpt
Alpha Queen's Book Obsession – Excerpt
March 28th
Never Judge a Book by its Cover – Review
Lazy Book Lovers – Review & Excerpt
Kindle and Me – Review & Excerpt
Crazii Bitches Book Blog – Review & Excerpt
TSK TSK What to Read – Review & Excerpt
PopKitty Book Reviews – Review & Excerpt
Confessions of a Bookfreak – Review & Excerpt
Bows & Bullets Reviews – Review & Excerpt
March 29th
The Book Hammock – Review & Excerpt
Best Book Boyfriends – Review & Excerpt
Defiantly Deviant – Review
Desert Divas Book Addiction – Review & Excerpt
The Heart of a Book Blogger – Review
Bookworm Misfit – Review & Excerpt
Bookaholics Anonymous – Review & Excerpt
Lady Amber's Reviews – Excerpt
March 30th
Pages to Explore – Review & Excerpt
The Butterfly reads – Review
Naomi's Reading Palace – Review
Book Angel Booktopia – Review & Excerpt
Bridget's Book Bungalow – Review & Excerpt
Nerdy Soul – Review & Excerpt
Once Upon a Twilight – Excerpt
True Story Book Blog – Review & Excerpt
behind Closed Covers – Review & Excerpt
March 31st
Coffee&Books – Excerpt
A Book Lovers Playlist – Review & Excerpt
I Heart YA Books – Review & Excerpt
Sanaa's Book Blog – Review & Excerpt
21st Century Once Upon A Times – Review
Avid Reader Musings – Excerpt
RhiReading – Review & Excerpt
Feed Your Fiction Addiction – Review
April 1st
Crawling Over the Pages – Excerpt
This Literary Life – Review & Excerpt
Buttermybooks – Review
A crazy vermonters book reviews – Review
The Phantom Paragrapher – Review
A Pair of Okies – Excerpt
Shelf_life – Review & Excerpt
PBC – Excerpt
April 2nd
BooksChatter – Excerpt
For the Love of Books and Alochol – Review & Excerpt
Book Bitches Blog – Review & Excerpt
The Cover Contessa – Review & Excerpt
Aaly and The Books – Review & Excerpt
Book Butterfly in Dreamland – Review & Excerpt
BOOKS&LOVERS – Review & Excerpt
Greyland Reviews – Excerpt
Related Posts