by
Teri Wilson
Also by this author:
Genres:
Austenesque
,
Chic-Lit
,
Contemporary Romance
,
Mr. Darcy Romance
,
Mr. Darcy Type Characters
,
Romance
,
Romantic Comedy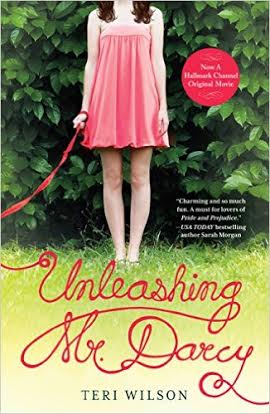 I am so thrilled Teri Wilson agreed to be interviewed by me!  I had the pleasure of meeting Teri the summer of 2014 at Romance Writers of America Conference in San Antonio.  She was so sweet and humble!  Gushing over Mr. Darcy with her, was one of my favorite moments of that book signing.
Unleashing Mr. Darcy is one of my favorite Pride and Prejudice modern day adaptions! When I found out it was going to Hallmark movie, I was so excited, I needed to shout it from the rooftops!  EVERYONE NEEDS TO READ AND SEE UNLEASHING MR. DARCY!!! 
My book-club, The Austenites have an author chat planned with Teri on January 17, 2016 from 6-8 pm CST. If you wish to join us, just comment on this post and I will add you to the event!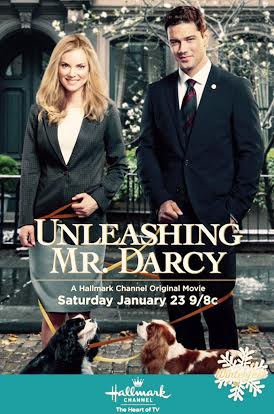 Thank you for agreeing to do an interview with me!! I am so excited! I read Unleashing Mr. Darcy when it was up on Netgalley in 2013, I loved it so much I ran out to buy it with my Barnes and Noble Christmas gift cards when it came out. I fell in love with Donovan Darcy! He is everything I love in a modern day Darcy! So this leads me to my first question…
M: Why Mr. Darcy?
T: He is the ultimate romantic hero. In romance writing, we talk a lot about alpha heroes – powerful, dominant males who are captivating and protective, if a little arrogant and possessive. They only soften when they meet the right woman. They would probably drive us insane in real life, but on paper we love them to death. Austen's Mr. Darcy is the original alpha hero.
M: Where did this story originate?
T: I first had the idea for Unleashing Mr. Darcy while I was at a dog show. I used to show my Cavalier King Charles Spaniels, Bliss and Finn. There's quite a bit of down-time at dog shows between grooming the dogs and waiting for your turn in the ring. I was hanging out ringside reading Pride & Prejudice, as it's always been a favorite book of mine. (I also love all the retellings, too!) Showing my dogs always made me really nervous, and I just kind of started wondering what it would be like if Mr. Darcy was the judge. It would certainly be intimidating (and also amazing). I tossed the idea for the book around in my head for nearly a year before I actually began writing it. I honestly thought no one would ever be interested in it. I though it was too much of a niche idea. But I kept dreaming up scenes and conversations between the characters, and I finally had to just get it down.
M: Do you read Pride and Prejudice Fan Fiction?
T: Oh my, yes. I adore Pride & Prejudice retellings, especially the contemporary ones. Some of my favorites are Austenland, Bridget Jones' Diary, Me & Mr. Darcy, Confessions of a Jane Austen Addict, Mr. Darcy Broke My Heart and Trials of the Honorable F. Darcy.
M: Who are influenced by?
T: The authors in my genre who have influenced me most are Kristan Higgins, Emily Giffin and Sophie Kinsella. I also love Julia London (who is a friend of mine and is just really incredible), Jane Porter, Maisey Yates and Susan Mallery. I really enjoy writing with witty humor, snappy dialogue and of course, great chemistry between the characters. And obviously I've been influenced by Nora Roberts because she is the queen of modern romance.
M: I also read Unmasking Juliet, who is the next in this series?
T: The third book in my retelling series comes out from Tule Publishing in March. It's called The Art of Passion, and it's a modern day romantic comedy version of the Pygmalion/My Fair Lady story with a fine arts theme. It was great fun to write. I reversed the genders of the main characters, so the stuffy professor is the heroine, Harper Higgins. The hero is a former soldier, Tom Stone. He might be my favorite hero I've ever written other than Mr. Darcy. Tom Stone is a brooding, tortured soul with the heart of an artist.
M: What do you think makes a good romance?
T: As I said earlier, I love good chemistry between the hero and heroine, as well as some really great banter. But I also think it's important that the hero and heroine really challenge one another and eventually bring out the best in each other. I also love to travel and am very inspired by a sense of place, so I like romances with unique settings. I like the setting to really be a part of the story, almost like a character in itself.
M: Tell us a little about yourself.
T: I've lived in Texas my whole life, but I love to travel. My dream is to move to a foreign country and write a book from start to finish. I love animals and have three dogs, two Cavalier King Charles Spaniels and a Golden Retriever. Someday I'd like to get a French bulldog. I'm crazy about dance and yoga – I dance in a belly dancing company and take ballet barre classes. I love life and having fun with my family and friends. I'm a shameless romantic.
M: When did you start writing?
T: I started writing about 7 years ago when my son encouraged me to do so.
M: Where do your ideas come from? Where do you get your ideas for your books and Giggles?
T: My book ideas always start with either the characters or the setting. I usually have a thought about a person who I think it would be fun to write about. Like Mr. Darcy. Or with my book Alaskan Homecoming, my ballerina heroine. Sometimes I start with the setting, as I did with a book I wrote last year called Royally Roma that hasn't been published yet. I wanted to write a romance set in Rome. That manuscript is a retelling of the movie Roman Holiday, and the city of Rome is very much a character itself. It doesn't have a publisher yet, but my agent is working on that. With HelloGiggles, I'm very fortunate to be a frequent contributor. The editors usually assign stories to me, so most of those ideas are not things I came up with on my own. My favorite stories to write for HelloGiggles are the ones about the cute animals, the royal family and my favorite books and television shows. If I see something in the news that really interests me, I pitch it to my editors and see if I can do a story about it. The last stories I wrote for HelloGiggles that were the result of pitches I submitted were the ones about Prince Harry's Christmas card and the dance company that put on a ballet performance on the moving walkway at the Denver airport when they were stuck there on a layover.
M: What do you read for fun?
T: I read a lot of women's fiction, romance, literary fiction and some YA books. I also like the occasional biography. Most of what I read is written by women. Nearly all of it, actually. A male friend recently teased me about this, so I'm trying to branch out a little and not be such a book-sexist.
M:  What is your favorite song?
T: Anything by Adele or Amy Winehouse.
M: What is the last book you read that you recommend?
T: The Husband's Secret by Liane Moriarty. I could not put it down. It told several stories at once that were intertwined. I'd love to try and write a book like that someday.
M: Please tell us about your other books. Are they all romance? What is your latest release?
T: All of my books are romances. My newest book is ALASKAN SANCTUARY, which is part of my Alaska series for Harlequin Love Inspired. I'm very excited about this book because it's set on a wolf sanctuary and was great fun to write. The print book is in stores now and the Kindle version comes out on January 1.
M: Colin or Matthew?
T: There is a currently a cardboard cutout of Colin Firth's head on a stick in my handbag, if that answers your question. (I do love Matthew, though. He's fantastic, but if I had to choose just one, it would be Colin.) But let's face it, my favorite Darcy will forever be Ryan Paevey, because he's mine.
Thank you so much for talking with me today!! I am so excited for Unleashing Mr. Darcy on Hallmark!! I can't wait to see it!!! 
Oh, and ladies….This is Mr. Darcy!!
Unleashing Mr. Darcy premieres on January 23! The Austenites will be a few of the many having a viewing party!  Tweet your live reaction during the show using the hashtag #unleashingmrdarcy while you watch! Mr. Darcy NEEDS to Trend!!!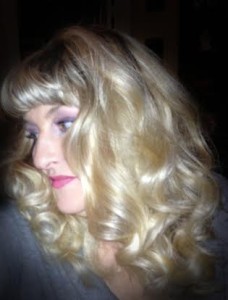 My website is www.teriwilson.net, and I'm on Twitter @TeriWilsonauthr and Facebook at https://www.facebook.com/TeriWilsonAuthor. I'm also a contributing writer at HelloGiggles, so readers can check out my fun non-fiction pieces at https://hellogiggles.com/author/teri–wilson/
Teri Wilson Amazon Author Page
Related Posts