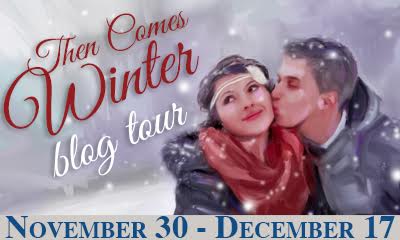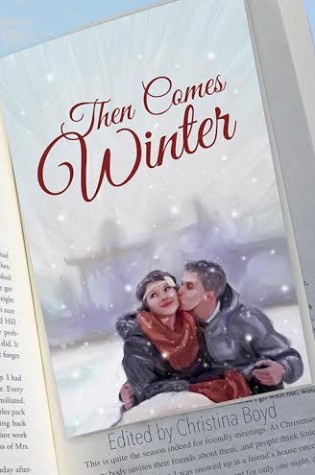 Then Comes Winter Holiday Anthology
by
Anngela Schroeder
,
Authors Beau North & Brooke West
,
Denise Stout
,
Erin Lopez
,
Linda Gonschior
,
Lory Lilian
,
Maureen Lenker
,
Melanie Stanford
,
Natalie Richards
,
Sophia Rose
,
Suzan Lauder
Also by this author:
A Most Handsome Gentleman
Genres:
Austenesque
"Then comes Winter with bluster and snow,
that brings to our cheeks the ruddy glow…" Gertrude Tooley Buckingham



If you long for a toasty snuggle on a cold winter's night, this compilation of original short stories inspired by the magic of the holiday season—and more than a nod to Jane Austen—is fancied as a sublime wintertime treat. On the heels of the summer anthology, Sun-kissed: Effusions of Summer, and in concert with some of Meryton Press's most popular authors, this romantic anthology introduces more promising writers. With a robust mix of contemporary and Regency musings, Then Comes Winter rekindles passionate fires with equal wonder, wit, and romance.
I dare say, even though I enjoyed Sun-Kissed Effusions of Summer so much, I adored Then Comes Winter so much more!!
Now, please don't ask why. I don't know quite the reason, perhaps it's simply the magic of the winter season that serves as the back drop of these endearing stories. I loved the modern adaptions and the regency tales; there was not one story in this collection that I felt lacked the true spirit of our dear Jane Austen.
This book will be a delight for everyone to read! From Janeites to romance lovers alike. It was lovely and festive and completely heartwarming.
Snuggle up with your favorite blanket, a big cup of Abuelita's Hot Chocolate and settle in for a charming winter's read.

Natalie Richards is a writer, blogger, and singer. She started her book review blog, Songs & Stories, in late 2010 after falling in love with Jane Austen fanfiction. Her writing can also be found on Figment, the Darcy & Lizzy Forum, TeenInk Magazine, and the Sun-Kissed: Effusions of Summer anthology. She resides with her family in the Oregon countryside and currently works as a waitress.
Melanie Stanford reads too much, plays music too loud, is sometimes dancing, and always daydreaming. She would also like her very own TARDIS, but only to travel to the past. She lives outside Calgary, Alberta, Canada with her husband, four kids, and ridiculous amounts of snow. Her first novel, SWAY, is coming December 29, 2015. You can find her at melaniestanfordbooks.com, on Twitter @MelMStanford, and on Facebook @MelanieStanfordauthor.
Linda Gonschior has entertained the art of writing since elementary school but never allowed it to come to fruition until Pride and Prejudice lured her deeper into the exploration of Jane Austen's characters, relationships, and "what-ifs." Seventeen years after writing Reflections as a short story, its publication as a full-length novel as well as the subsequent A Tarnished Image has opened up a new world with new friends and shared obsessions for all things Austen. Living on a large acreage in rural Niagara, Linda shares her home with her husband, son, cat, dog, and dust bunnies.
Suzan Lauder's enjoyment of variety is evident in her dynamic career, food interests, hairstyles, and of course, her writing! No one story can predict the style or setting for the next as Lauder continues to experiment with her craft. Mad about historical research and learning new writing techniques, she's an active member at the Austenesque fan site, A Happy Assembly. Her unique Regency romance with a mystery twist, Alias Thomas Bennet, was published by Meryton Press in 2013. Lauder's fascination with the Regency period inspired her creative blog series, the Thrift Shop Regency Costume Experiment, a project that transforms found, re-used, discount, and vintage items into quality, Regency-era outfits. The amusing and resourceful approach includes original patterns, and it has garnered support from Regency and upcycling bloggers and fussy Regency costumers. Lauder and Mr. Suze live on beautiful Vancouver Island, BC, Canada, with two tabby cats who supervise her projects.
Maureen Lee Lenker is a writer, actress, director, and producer. She currently works at the USC Libraries as a program assistant and is also working towards an MA in Arts Journalism, reporting on arts, theatre, and entertainment. She has written for Turner Classic Movies, Ms. In The Biz, @ This Stage magazine, and more. You can find her previous holiday romance story, "From Keats with Love" in the Christmas Nookies anthology. When not at USC, she works on theatre productions throughout Los Angeles. She is a native Angelino who hates driving and cites peacoats and scarves as her favorite clothing items. An Anglophile, she attempted to fulfill her dream of attending Hogwarts by completing her master's in British History at the University of Oxford. She is a cockeyed optimist, life-long Janeite, rom-com aficionado, classic movie buff, musical theatre geek, and general pop culture enthusiast.
Beau North is the author of Longbourn's Songbird and the founder of the podcast and website Rhymes With Nerdy She lives in Portland, Oregon with her husband. You can connect with Beau on Twitter @BeauNorth or at beaunorth.merytonpress.com.
Brooke West is a novice silversmith, proficient yogi, and expert cat-wrangler. She lives in South Carolina with her son, fiancé, and three cats. Find Brooke on Twitter @WordyWest.
Sophia Rose, a northern Californian transplant to the Great Lakes region of the U.S., is a quiet yet curious gal who dabbles in cooking, snooping about old places, gardening, and is encouraged in her writing pursuits by an incredible man and loving family. Writing has been a compelling need of Sophia's since childhood, and being a published author is a dream come true.
Denise Stout dreamed about writing from an early age, guided along the way by some special teachers who took an interest in her writing and encouraged her to pursue her words in print. She loves to write stories about strong women who strive for the best, sometimes faltering, but who always have the fortitude to pick themselves back up again while finding love along the way. A frequent contributor to FindSubscriptionBoxes.com, she also reviews books, movies, and products. When not driving carpools, watching her boys play sports from the sidelines, or volunteering, she loves to read. And write. And watch Jane Austen adaptations. Denise lives in the Baltimore area with her husband and three sons.
Lory Lilian is a Romanian Pride and Prejudice aficionado with a background in business. She has an awesome daughter and the gentlest French bulldog ever. She fell in love with Pride and Prejudice when she was thirteen and has read it about a hundred times since. The A&E television mini-series in 1995 had a dramatic impact on her fascination with Darcy and Elizabeth and inspired her to read and then start writing countless variations about her favorite couple. Lory is the author of five Pride and Prejudice-inspired books: Rainy Days, Remembrance of the Past, His Uncle's Favorite, The Perfect Match, and Sketching Mr. Darcy. She is currently working on three more, all at the same time.
Erin Lopez is a reader, writer, wife and mother—although not in any particular order. While she reads and writes in a variety of genres, she has a special place in her heart for Jane Austen and Pride and Prejudice fan fiction. She grew up in the San Francisco Bay Area where she met and married her own "Mr. Darcy," and they lived in Colorado and Arizona for a time. During their stay in Arizona, they brought two delightful daughters into the world and adopted a small, fuzzy dog. They have since returned to the Bay Area.
Anngela Schroeder lives in California with her husband of fifteen years and her three rambunctious sons. She has a degree in English with a concentration on British Literature and a Masters of Education. She has a slight obsession with Jane Austen and all things British. She enjoys traveling, baking, and making her family's world a magical place. She has published two other novels, The Quest for Camelot—book one in the Daughter of the Roundtable Series, and Affections and Wishes, a Jane Austen-inspired, modern-day romance. Follow her on Facebook, Anngela Schroeder-Author, and on Twitter @schros2000.
Christina Boyd wears many hats as she is an editor at Meryton Press, a contributor to Austenprose, and a ceramicist for the Made in Washington stores under her own banner, Stir Crazy Mama's Artworks. A life member of Jane Austen Society of North America, Christina lives in the wilds of the Pacific Northwest with her dear Mr. B, two busy teenagers, and a retriever named BiBi. Visiting Jane Austen's England remains on her bucket list. On Twitter @xtnaboyd.
Related Posts