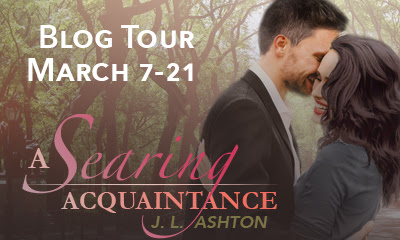 A Searing Acquaintance
by
J.L.Ashton
Published by
Meryton Press
Genres:
Austenesque
,
Mr. Darcy Romance
,
Mr. Darcy Type Characters
Format:
eARC
Buy the Book
•
Goodreads
"I don't know why I ever thought we made sense."

Smart, educated people are fools in love, especially when they're mired in denial and misunderstanding. In this modern spin on Jane Austen's classic tale, Elizabeth Bennet, a grad student with literary aspirations, has found her big career break—and broken up with yet another forgettable boyfriend. While grateful for the professional lifeline thrown by sports agent George Wickham, she is intrigued by the man she calls "Mr. Noir."

Fitzwilliam Darcy, marked by tragedy, is a man accustomed to living his life in the spotlight even as his heart dwells on the dark side of loneliness. When he first meets Elizabeth, he thinks she looks like "a bloody pumpkin," but he soon sees so much more. She, however, can't even decide what to call him. Mr. Noir? Nurse Darcy? Sleazy British playboy? Ferdinand?

"So, it's Fitzwilliam, right? That's an amazing name, you know. Which came first—the name of the accent? He looked at her. "Oh, come on. It's like the name of a subdivision or a sofa at Pottery Barn. 'Please note the extra firm cushions on The Fitzwilliam.'"

Can an accidental encounter that leads to shocking intimacy change the course they've both set and bring them into love's light? Or will they stay mired in cold words and angry misunderstandings, overshadowing the deep connection they each feel? Getting beyond their own mistakes to find each other again is one thing; they also have to heal the wounds of their pasts. Can they do that together?
It is a truth universally acknowledged that I love JAFF.
A Searing Acquaintance was such a treat! I can't pinpoint exactly what it was that I loved most about this book. Maybe it was the wonderfully written, perfectly plotted and believable premise; that although, didn't follow the canon to a tee, was still a wonderful ode to the original.
I loved Elizabeth! She was fun, witty and spunky, everything we love in our original Lizzie but made up perfectly for the modern world.
Darcy was perfect. I mean what else can I say? He was true to the old and sublime as the new. He was perfectly mercurial, adorably awkward and utterly romantic. Just what we love in our Darcy.
In this mod podge of Pride & Prejudice, A Searing Acquaintance is a wonderful modern retelling of my favorite classic. I loved everything about it!
OK so who did I picture as Darcy while I read A Searing Acquaintance?
HENRY!!! That Smoldering Mass of a Man!! And he is perfect, always in BLACK!
With that perfect stubble… ♥♥♥♥♥♥ "You look good with a beard"

With that INTENSE GLARE he has only for Lizzie…. *swoon*
HE IS MY FOREVER MR. DARCY!!! ♥♥♥♥♥♥♥
Related Posts