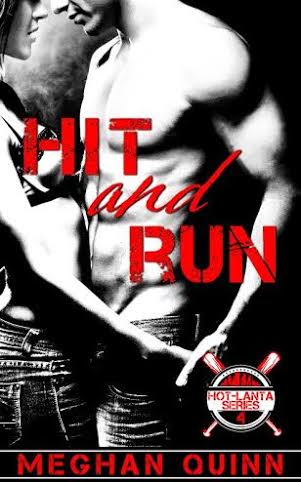 Hit and Run
by
Meghan Quinn
Series:
Hot-Lanta #4
Also by this author:
The Virgin Romance Novelist
,
Forever A Jett Girl
,
The Mother Road
,
Genres:
Contemporary Romance
,
Romance
,
Sports Romance
Goodreads
Hit and Run
Right when Jane and Brady have everything right in the world, they lose the one thing they didn't know they wanted. The pain is too much, the expectations are too high and the pressure they put on each other tears them a part.

They have one chance to make it right, one chance to try and move on from the hurt and pain but is Jane ready to put her past behind her or is she going to take the easy road out and give up?

The drama finally concludes in this heart-wrenching series full of twists, turns, cliffhangers, deaths, and hot, steamy nights.

Life isn't as easy as it seems, especially under the heat of living in Hot-Lanta.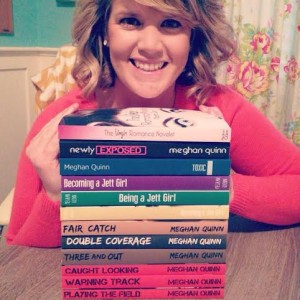 Born in New York and raised in Southern California, Meghan has grown into a sassy, peanut butter eating, blonde haired swearing, animal hoarding lady. She is known to bust out and dance if "It's Raining Men" starts beating through the air and heaven forbid you get a margarita in her, protectyour legs because they may be humped.
Once she started commuting for an hour and twenty minutes every day to work for three years, she began to have conversations play in her head, real life, deep male voices and dainty lady coos kind of conversations. Perturbed and confused, she decided to either see a therapist about the hot and steamy voices running through her head or start writing them down. She decided to go with the cheaper option and started writing… enter her first novel, Caught Looking.
Now you can find the spicy, most definitely on the border of lunacy, kind of crazy lady residing in Colorado with the love of her life and her five, furry four legged children, hiking a trail or hiding behind shelves at grocery stores, wondering what kind of lube the nervous stranger will bring home to his wife. Oh and she loves a good boob squeeze.
FB  |  Website  |  Twitter  |  Instagram  |  TSU
Related Posts