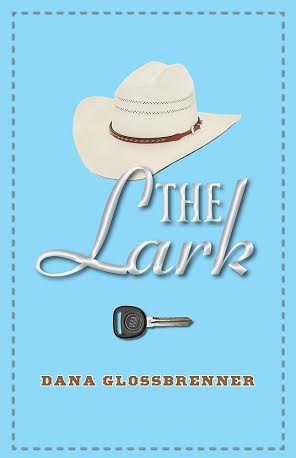 The Lark
by
Dana Glossbrenner
You're never too old to learn—or too young



 Good-looking, good-hearted Charley Bristow's the most sought-after hair stylist in five West Texas counties. He's an expert on the dance floor and sharp at the pool tables, too—but when it comes to pick­ing cars, dogs, and women, luck hasn't quite gone his way lately. And there's the ever-present worry over his mother, whose own trailer-park plight he'd just as soon steer clear of. 



 Just when he's sworn off temptation of the female sort, an evening at the local honky-tonk drives two prime targets right into his path. Weighing the sudden wealth of options in his love life, while also searching for the right choice of wheels to suit his needs, Charley stumbles upon a long-hidden secret and an unforeseen road to re­demption. 



 The colorful denizens of the Wild Hare Salon, Jarod's Automotive, and Hopper's nightclub, along with those of the Briargrove First Methodist Church and the Sulfur Gap Centennial Celebration, will two-step their way right into your heart, to music as familiar as Willie Nelson and Charley Pride. And you just might start to fall in love with an old Johnny Mercer tune, too, as Charley Bristow faces his past and embraces the challenge of his future.
Genre: Humorous Literary Fiction
Publisher: Boldface Books
Date of Publication: June 7, 2016
Scroll down for Giveaway!

Praise for The Lark
"Good-time Charley" Bristow is a popular twenty-something West Texas hairstylist who's already dodged two bullets with two failed marriages (the second time, literally). . . . The Lark invites us to join Charley's friends, the rural cosmopolitans of Sulfur Gap, and ride shotgun alongside this rogue with an honest heart . . . on a journey into his past.  Dana Glossbrenner has crafted a totally engaging quest for happiness, set it in a totally genuine contemporary Texas, and delivered up great characters for a great read.
— Cliff Hudder, author of Splinterville and Pretty Enough for You
Charley Bristow takes some things seriously–work, dancing, pool-playing, and women, but maybe not in that order. He finds the true importance of friends and family.
— Rick Smith, San Angelo Standard Times
Small town humor, sweet romance, and secrets galore are some of the important elements that drive The Lark. It is about life, love, and lessons learned. Charley is such a great character, you cannot help but fall in love with him. His dance through life hasn't been an easy one and at 25 with two failed marriages you are really rooting for this guy to find his happily ever after any way possible. Set in a small Texas town that really any small town Texan can relate to with the gossip mongers, the honky-tonks and the genuine folks that surround you, The Lark is about the family we make for ourselves.
Fast, fun and unpredictable The Lark will keep you engaged and pushing along. The adventure to finding your true self is one that is never easy, never one that is smooth but always so worth it in the end. It was quite an enjoyable read. 
Dana Glossbrenner's debut novel, The Lark, features Charley Bristow, a successful young hair stylist in a small West Texas town. His misadventures provide humor, intrigue, and catharsis, as he discovers a lost family history. Women Behind Stained Glass: West Texas Pioneers, a historical work, recounts the lives of women who helped settle the area around San Angelo, Texas.Glossbrenner taught high school and university English classes and worked as a guidance counselor. She grew up in Snyder, Texas, earned degrees from Texas Tech, Angelo State University, and Texas State University. She now lives in San Angelo, Texas.
She cites Larry McMurtry, Cormac McCarthy, and Elmer Kelton as major inspirations for writing about Texas.
blog tour services provided by
Save
Save
Save
Save
Related Posts