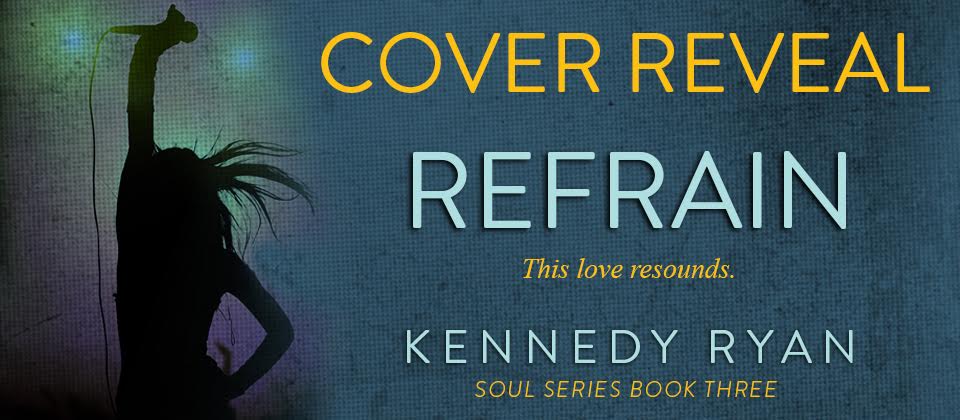 by
Kennedy Ryan
Series:
Also by this author:
Be Mine Forever
,
Unitl I'm Yours
,
Grip
,
STILL
COMING AUGUST 15!
Wanna be notified as soon as REFRAIN goes live? Leave your email HERE! It's a one-time email, and doesn't sign you up for the monthly newsletter.
S Y N O P S I S

People dream of a love that runs deep.
So deep it feels like it's always been with you, just waiting for the person who'll own your heart and soul forever. So few ever find it, but for Rhyson Gray and Kai Pearson, happily ever after was only the beginning…
One of the biggest rock stars in the world and one of the brightest rising stars make a life together. Sometimes it's glamour-filled days and blissed out nights, but it's mostly staying true in the too-bright glare of the spotlight. It's long stretches where the road is lonely and the work is hard. It's living in a love that's the safest place you know even while danger lurks at your door.
Book 3 of The Soul series is an emotionally-charged epic conclusion that had to be told and should not be missed for fans of this series and this couple!
E X C E R P T



I know it's just a date, but it feels special. We're not party people. We're as content…no, more content…staying home. Or going to the studio. Or to the beach. But a date? Dinner? Like normal people? Yeah, I'm excited.
               Ella thought it would be fun to play up my Asian ancestry. The shantung silk dress she brought over is the color of cherries and has black piping. It's sleeveless with a stiff mandarin collar framing my neck. High side slits extend from the mid-calf hem to a few inches above my knees, flashing my thighs with each step. The material clings to my every dip and curve. Ella insisted I ditch the bra, so my breasts strain against the tight material. The rear view provides the dress's true drama. A tiny onyx button clasps at my nape, and from there the dress cuts out, laying my entire back bare. The dress lovingly exaggerates and cups the rounded curve of my butt.
Glancing over my shoulder, even I see that it is…provocative. Ella knotted my hair and secured it with shiny black chopsticks. My make up is heavier than usual, with pencil and smoky shadow highlighting the slant of my eyes. My lips pop a vibrant matte red.
               "Kai!" Rhyson's voice climbs the stairs. "Come on, babe. We've got a reservation."
               "Be right down," I yell back. Why do we even have intercom when Rhyson always resorts to the old cup and string method of communication?
               "Oh!" Ella digs in her little bag of tricks, handing me a small beaded clutch. "You'll need this."
               "Thanks, Ella."
               "And those." She points to the backless heels on the bed which add a good four inches to my height.
               I step into the heels, teetering a little until I get used to the air up here.
               "Pep!" Rhyson yells again from downstairs. "Baby, we need to go."
               Ella gathers her things and heads toward the landing with me. We're chatting, laughing over something from Grip's shoot, when I catch sight of Rhyson at the bottom of the stairs wearing a slate gray suit with a navy button up, no tie. The slacks are impeccably tailored. He's gotten his hair cut today. Must have been one of his "appointments." It's tapered in the back and on the sides, but still longer on top, dipping into his eyes. He looks like exactly what he is. A devastating famous rock star who can have anyone he wants. If I pinched myself every time I tried to wake up from this dream where I'm the one he wants, I'd be black and blue for the rest of our lives.
               I stop right in front of him on the last step, which between my high heels and the elevation of the step, puts us basically eye to eye. We stare at one another for long moments, his eyes thoroughly assessing me, and mine doing the same. Ella says her good-byes, and I wave vaguely in her direction, transfixed by Rhyson's stormy gaze. Finally he grabs my hand, draws my wrist to his lips and leaves a sweet kiss there.
               "Well, I hope you're happy," he says softly, making another journey up and then down my body with his eyes. "You did it."
               "Did what?" I'm startled by how husky and breathless I sound.
               "You've made me want to stay home and say screw our plans."
               "Remember, reservations."
I lean in to plant a kiss on his full lips, barely resisting the impulse to thrust my tongue in and set off some fireworks. I step down and walk past him. His indrawn breath once he sees the back of the dress renders a pleased smile on my face. My hand is on the door handle when his wide palm splays over my stomach, pulling me up short. His hard chest warms my back.
               "Your ass in this dress is obscene, Pep," he husks at my ear, grinding his erection into my butt. I'm reminded of my own cries bouncing off the bathroom walls this morning when he took me from behind as we watched each other in the mirror.
               I glance up and over my shoulder, giving him my most seductive smile and turn to face him.
               "I know."
Catch up on the Series!
Start with Book 1. Free in KU!

**Amazon Top 100 Bestselling Series**
Book 1, MY SOUL TO KEEP
Amazon
Goodreads
Book 2, DOWN TO MY SOUL
Amazon
Goodreads
*Join the MY SOUL TO KEEP read along that starts August 3!*
G I V E A W A Y

Go to Kennedy's Author Page for the chance to win one of (5) Amazon Gift Cards!
ABOUT THE AUTHOR

I just can't write about myself in third person for one more bio! I'm a wife, a mom, a writer, an advocate for families living with autism. That's me in a nutshell. Crack the nut, and you'll find a Southern girl gone Southern California who loves pizza and Diet Coke, and wishes she got to watch a lot more television. You can usually catch me up too late, on social media too much, or FINALLY putting a dent in my ever-growing TBR. I love to hear from readers at kennedyryanwrites@gmail.com.
Let's Connect!
Newsletter | Facebook | Amazon | Twitter | Book Group | Instagram
Related Posts