by
Katie Lane
Series:
Also in this series:
A Billionaire After Dark
Also by this author:
A Billionaire After Dark
Published by
Forever Romance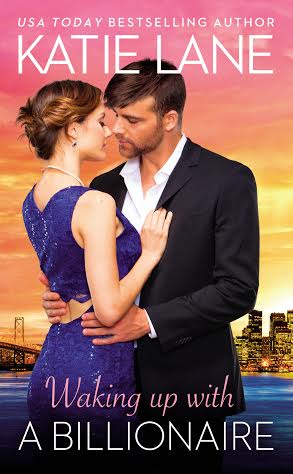 Title: Waking Up With A Billionaire
Author: Katie Lane
Series: The Overnight Billionaires, #3
On Sale: July 26, 2016
Publisher: Forever
Format: Mass Market & eBook
Price: $6.99 USD
He can have anything he wants…except her
Famed artist Grayson Beaumont is the most elusive of the billionaire Beaumont brothers. He has a reputation for seducing any woman with only a look, word, or sensual stroke of his brush. But now Grayson has lost all his desire to paint . . . unless he can find a muse to unlock his creative-and erotic-imagination.
Chloe knew she might have to shed her clothes when she agreed to pose for the celebrated artist, but she wasn't expecting to shed all her inhibitions as well. Under his intense scrutiny, there's nothing she can hide…including a secret from her past that, once exposed, will change how he looks at her forever.
 "Stay right where you are . . ."
      Stretched out on the floor in front of Grayson, Chloe just felt sexy. The feeling only intensified as he took a seat and started to draw.
The way he painted was twice as sensuous as the way he drew. The brush was like an extension of his hand and the canvas her body. Wherever his hot gaze landed, she felt the stroke of his brush. Her feet. Her legs. Her breasts. Her warm center.
He made her feel beautiful. Breathtaking. And wicked.
She now understood what being "captured on canvas" meant. Right now she was Grayson's. For all eternity, she wanted to be . . .
"Grayson's."
She didn't realize she had spoken until his hand halted in mid-brushstroke. His gaze found hers, and he dropped the brush and slowly rose from the stool and looked down at her with hungry eyes. She remained perfectly still.
          A willing sacrifice on the altar of Grayson . . .
"Who told you that I've bedded hundreds of women?"
      "No one had to tell me. If you make the other women you paint feel the way I do, it just makes sense."
Grayson lifted his head, and his eyes drilled right through her. "How do I make you feel, Chloe?"
It was past sexual attraction. Past anything she had ever felt with another man. But she couldn't tell him that. Not when she was leaving. So instead of answering, she leaned in and kissed him. She kissed him with everything she had.
Without breaking the kiss, he stood and pulled her up with him. The warmth of his body spooned around her made her feel warm and secure, and she closed her eyes and drifted. She was in that place between wakefulness and dreamland when he whispered.
"You're wrong, Chloe. You're the only woman I can't resist . . ."
 A Billionaire Between The Sheets, #1
Waking Up With A Billionaire, #3
Katie Lane is the USA Today bestselling author of the Deep in the Heart of Texas, Hunk for the Holidays, and Overnight Billionaires series.  Katie lives in Albuquerque, New Mexico, and when she isn't writing, enjoys reading, going to the gym, golfing, traveling, or just snuggling next to her high school sweetheart and cairn terrier Roo.
FOLLOW FOREVER ONLINE
a Rafflecopter giveaway
Save
Related Posts