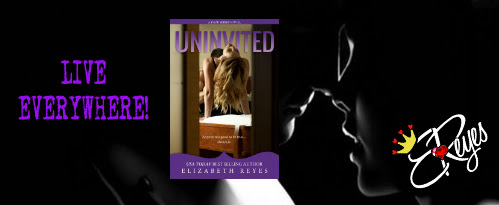 This book may be unsuitable for people under 17 years of age due to its use of sexual content, drug and alcohol use, and/or violence.
Uninvited
by
Elizabeth Reyes
Series:
Fate
,
Fate #7
Also in this series:
Fate
,
Again
,
RAGE
,
His To Guard
Also by this author:
Suspicious Minds
,
Defining Love (Volume 1-3)
,
Again
,
RAGE
,
His To Guard
,
Lila
Genres:
Contemporary Romance
,
Diverse Books
,
Romance
Format:
eARC
Buy the Book
•
Goodreads
When Aiyanna Casilieris becomes stranded in a snowed in mountain cabin, the last thing she imagined was that she'd be welcoming a wickedly sexy intruder to keep her company. But within days, she's invited him to do so much more.



First instincts are usually right.



Falling for someone on the rebound is never a good idea. But Nathan Romero has never been one to pass up a harmless and meaningless good time. Even when it turns out the sexy stranger he's stranded with is a lot more innocent than he imagined.



Even before they're rescued, he finds himself asking for more time with her once they're out of there. As their relationship back in the real world intensifies, nothing surprises Nathan anymore. Not how fast things move between them nor even their talk of moving in together.



Anything too good to be true . . . always is.



Surrounded by friends and family who are all for the relationship despite it moving at lightning speed, Nathan couldn't be surer that what he's feeling for Aiyanna is the real deal. Things between them couldn't be more perfect. Until the unspeakable happens.



Could their love survive the most brutal of betrayals, especially when there's no denying it? Or was their rapid but perfect relationship really too good to be true?



Note to readers who are not caught up yet and wondering who Nathan is? The Fate series is a Moreno Brothers spin off series Isaiah, Nathan and AJ "Rage" Romero are cousins of Romero from the MB series. They were introduced in the 3d Fate book Suspicious Minds (Fate #3). They are brothers and their sister Olivia, was paired of with Lorenzo Moreno in Suspicious Minds. In Again (Fate #4),their youngest sister Emi, is paired off with Sydney from Forever Mine the first in the MB series.



 
WOW! This book had me reeling!  I had to read it one sitting. I could not stop until the end…it was crazy!
Sexy and sweet, with a story line that will keep you at the edge of your seat! I love Nathan and Anna's path to happily ever after but as the old saying goes, "The course of true love never did run smooth." The bumps and the twists and the crazy turns in their story put me through an emotional ringer! But this is nothing new and is the usual M.O. with Elizabeth Reyes' books and I loved every single happy and tortuous minute of it!!  
Now GIVE ME SABIAN ELIZABETH!!
Related Posts