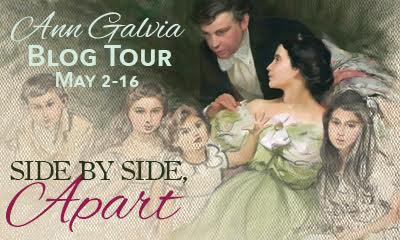 Side by Side Apart
by
Ann Galvia
Also by this author:
What's Past is Prologue
Published by
Meryton Press
Genres:
Austenesque
"You see what a strange circumstance it is," she said, feeling some fleeting relief. "You know our acquaintance has not been easy."
Elizabeth Bennet—stubborn, quick to judge but slow to revise her opinions, and entirely prejudiced against the man who had just proposed marriage at Hunsford—awakens to learn she has been in an accident. Bedridden in an unfamiliar house, she learns eleven years have passed since the last moment she can remember.
She finds herself a married woman, the mother of four, and pregnant yet again. Her children are strangers, and most mystifying of all, Fitzwilliam Darcy is her husband! How could she have married a man she loathes?
Confined to the house by her injury, Mr. Darcy's company is inescapable. But is just being side by side enough to overcome their differences? What happens when Darcy, improved in manners and happily married to Mrs. Elizabeth Darcy, is faced with an obstinate, bewildered Miss Elizabeth Bennet?
Books like Side by Side Apart is exactly what is so amazing about the JAFF community. The ability to take our beloved characters and spin them into a new story and breath new life into the classic we all love is nothing less than amazing.
I feel this story was done so well, Darcy and Elizabeth were true to their character. I love how devoted and patient Darcy was with Elizabeth as she fought her bout with amnesia. My heart broke for him as he watched her struggle not knowing her own feelings for him and their children.  I was so sad for Lizzie as well, not knowing how to gauge what had become of her life.  It was an emotional one.  Their path back to each other was beautiful.  This story is lovely, I LOVED IT!! 
Ann started writing sometime before she knew how letters functioned. Her first books were drawings of circus poodles heavily annotated with scribbles meant to tell a story. Upon learning how letters were combined to represent words, she started doing that instead. This has proven to be much more successful.
Sometime after that, she decided she wanted to study Anthropology and sometime after that, she decided she liked cats more than dogs. And sometime after that, she decided to become an educator and teach a new generation of kids how to combine letters to represent words, and use those words to express ideas.
And sometime after that, she realized all she really wanted to do was write, which probably should have been evident from the beginning.
Related Posts