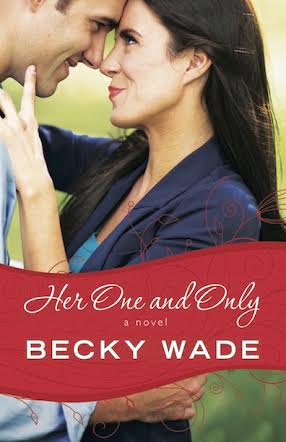 Her One and Only
by
Becky Wade
Genres:
Christian Romance
Buy the Book
•
Goodreads
After ten years in the NFL, superstar Gray Fowler is accustomed to obsessive fans. But when Gray starts receiving death threats from a stalker, his team hires an executive protection agency to guard him until the culprit is caught. Dealing with bodyguards 24/7 is a headache, especially when one of them is a young, beautiful woman. How can a female half his size possibly protect him better than he can protect himself? 

Dru Porter is a former Marine, an expert markswoman, and a black belt--none of which saved her from disaster on her last assignment. In order to rebuild her tarnished reputation, she's determined to find Gray's stalker and, since relationships between agents and clients are forbidden, avoid a romantic attachment between herself and the rugged football player with the mysterious past.




Yet every secret that leads Dru closer to the stalker also draws her closer to Gray. As the danger escalates, they'll survive only if they can learn to trust their lives—and their hearts—to one another.
Genre: Contemporary Inspirational Romance
Date of Publication: May 3, 2016
Scroll down for Giveaway!
 Her One and Only was my first Becky Wade book and let me just say, I am so glad I had this opportunity to read it! I am such a romance girl, I am all about the romance!  This premise was just up my ally when I read it was about a football player, they are my favorite of all the sports heroes.  Call me crazy but I love the arrogant, cocky, ladies man, they are my weakness in romance. Gray was just that guy.  I also love when this man, falls hard for a girl they never thought possible.  MY FAVORITE STORY LINE! 
I loved Gray from the start, he was just as he should be, but as the story unfolded, we learn of his journey to the Pro's, his life as a child, and  you see there is more depth to him than we had originally thought.  It isn't hard to understand why he behaves the way he does.  By the end, you couldn't help but fall in love.
However, what stood out most for me in this book was Dru.  Her fight, her courage and conviction to prove to everyone that she was good at what she does, her fight for independence on her own terms, has you rooting and fighting right along with her.  I loved her!! 
My favorite parts of the book were the push and the pull! I loved how they fought against their feelings and how they fell for each other just as we fell for them being together as well!  Very much like Darcy and Elizabeth!!  Such a wonderful romance and the suspense factor is just an added bonus!! I need to go back and read about the rest of the Porter Family!!  I have found a new Must Read Author! With just the right amount of sweet heat, Her One and Only brings the swoons and fills your heart.
Related Posts