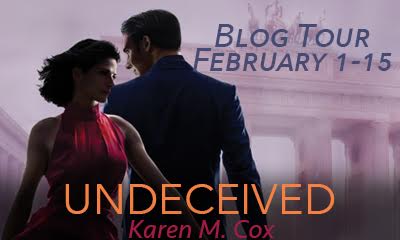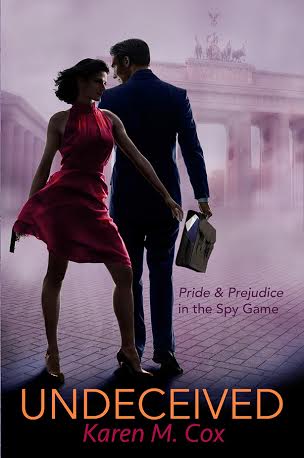 Undeceived
by
Karen M Cox
Also by this author:
I Could Write a Book
Published by
Meryton Press
Genres:
Austenesque
Format:
eARC
Buy the Book
•
Goodreads
During the last gasp of the Cold War, Elizabeth Bennet, a young, forthright counterintelligence officer, embarks on an exciting assignment that would make her late father, a fallen CIA officer, proud. She transfers to Europe to investigate the legendary and elusive William Darcy, an officer in line for the coveted Soviet station chief position who's suspected of being a double agent.
William Darcy appears to lead a charmed existence, but now he finds himself fighting for his career and against his growing feelings for the young woman he doesn't know is watching his every move.
Elizabeth wants to throw the book at him, but the facts don't match her preconceptions. Is Darcy being set up? Are there darker forces at work? Or is William Darcy a skilled double agent after all? Nothing is as it seems, however, and the closer Elizabeth gets to the truth about Darcy, the more she spirals into danger.
Undeceived, the new novel by award-winning author, Karen M. Cox, is part romance, part spy game suspense—inviting readers to uncover the villain in this variation on Pride and Prejudice, Jane Austen's classic tale.
1932 by Karen M. Cox was one of the first JAFF I ever read and I loved it.   I still remember finishing the story with a sigh…it was really great.
I fell in love with the cover of Undeceived even before I read it.  It is one of the prettiest covers I have ever seen!  And how can you not want to read a book with spies, lies, and Mr. Darcy?!?
What a ride it was! Thrills, chills, and a suspense that kept me hooked until the very end.  We all love the enemies-to-lovers troupe and the build for Darcy and Elizabeth was slow and combustible! I loved it! The parallels to P&P were great and the fact that I kept second guessing myself up until the very end is proof in itself that this book is a MUST READ! 
And of course this was my Fitzwilliam Darcy aka The London Fog…Isn't he PERFECT!!! ♥♥♥♥♥
Karen M Cox writes novels accented with romance and history. All three of her published novels: 1932, Find Wonder in All Things, and At the Edge of the Sea, have garnered awards from the independent publishing industry, taking top honors three out of the five times they were recognized. Last year, she also participated in Meryton Press's inaugural anthology, Sun-Kissed: Effusions of Summer, with her short story, "Northanger Revisited 2015." Her fourth full-length novel, Undeceived: Pride and Prejudice in the Spy Game, will be released in early 2016.
Karen was born in Everett WA, which was the result of coming into the world as the daughter of a United States Air Force Officer. She had a slightly nomadic childhood, with stints in North Dakota, Tennessee and New York State before moving to her family's home state of Kentucky when she was almost twelve. She lives in a small, quiet Kentucky town with her husband and children, and works as a pediatric speech pathologist. She spends her off hours reading, writing, and being a wife and mom—and spoiling her new granddaughter.
Blog
Facebook
Twitter
Pinterest
Amazon Author Page
Instagram
Related Posts