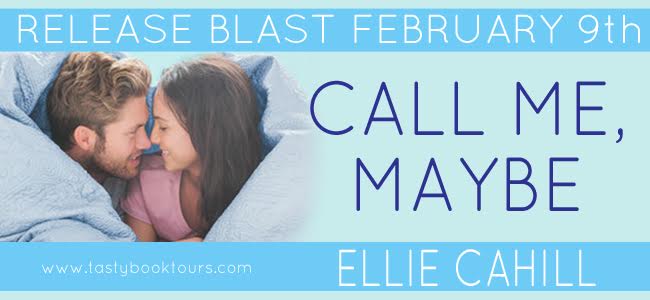 by
Ellie Cahill
Genres:
Romance
Releasing on February 9, 2016
Loveswept
"Ellie Cahill is definitely one to watch!" raves bestselling author Cora Carmack, and this steamy, upbeat modern romance about connecting in all the best ways proves it once again.
Clementine Daly knows she's the black sheep. Her wealthy, powerful family has watched her very closely since she almost got caught in an embarrassing scandal a few years ago. So when Clementine's sent on a mission to live up to the Daly name, politely declining isn't an option. Of course, the last thing she does before boarding the plane is to grab a stranger's phone by mistake—leaving the hunky journalist with her phone. Soon his sexy voice is on the line, but he doesn't know her real name, or her famous pedigree—which is just
the way Clementine likes it.
Despite all the hassles, Justin Mueller is intrigued to realize that the beautiful brown-eyed girl he met at the airport is suddenly at his fingertips. They agree to exchange phones when they're both back in town, but after a week of flirty texts and wonderfully intimate conversations, Justin doesn't want to let her go. The only problem? It turns out that Clemetine has been lying to him about, well, everything. Except for the one thing two people can't fake, the only thing that matters: The heat between them is for real.
The sun was just starting to set later when I took Justin's phone out to the pool deck and settled onto a lounge chair to call him.
There were no new messages for Justin, but I'd gotten one from my own phone. Someone named the Duchess keeps calling. My grandmother. My code name for her always seemed so funny to me when she called, but now I was embarrassed to think of a stranger seeing it. And I couldn't get much in the way of tone from Justin's message. I wanted a chance to talk to him, to have a better interaction than we had earlier in the day.
It was probably stupid. I could have left well enough alone. I didn't even have to reply. Or I could have just answered with a Thank you. Sorry for the inconvenience. I should treat this like a business arrangement. Give him the messages, try not to cause him too much trouble and get his phone back to him in one piece. Prove that I could handle a gaffe like this without causing the family trouble. Make this stupid mix-up nothing more than a strange story to tell down the road.
And yet.
I found myself selecting my own number from the call log.
He answered on the second ring. "Hello?"
"Justin? It's Clementine."
"It's so weird to see my own number show up when you call."
I couldn't read his mood. Not much of a surprise, I barely knew him. "Yeah. It's pretty weird to call my own number, too."
"Did you get my message?"
"Yeah, I did. Sorry about that. My grandmother can be kind of . . ."
"Persistent?" he supplied.
I laughed. "That'll do. Anyway, I'm sorry she keeps calling."
"It's okay." His tone was so relaxed; I could imagine the shrug that went with the words. "The name is, um, interesting."
"Sorry, I have this thing about not putting people's real names in my phone." A mandated thing, but one I'd grown accustomed to. I kind of enjoyed coming up with goofy nicknames for people.
"Huh. Also interesting."
"I—sorry. You'll see some others, I'm sure."
"Don't apologize. I got a good laugh out of it. Did I get any other messages?"
"Someone wants you to sub for darts on Tuesday?"
"Andy. Can you screenshot it and send it to me?"
"Sure."
"God, it's horrible that I don't know my own roommate's phone number. How did people used to memorize phone numbers all the time?"
I laughed. "I seriously don't know. Oh, you had another message from the University of Florida. They want your money."
"They always do." He sighed amiably. "You can just delete that one. And any others from them for that matter."
"I take it you went there? For college?"
"Undergrad, yeah."
"When did you graduate?" In other words, how old are you? I picked nervously at the seam of the lounge chair's cushion.
"Three years ago." That made him, what? Twenty-five?
"So, how on earth did you end up in Chicago?" It was the eternal Midwesterner's question. As a people, we could scarcely imagine a climate less desirable than our own, a region more likely to earn the mockery of others, or a final destination less understandable than a flyover state. Even Chicago.
"I got into Medill."
Medill? I scrambled for context. It rang a bell, but I couldn't place it. "Where?"
"The journalism grad school at Northwestern."
"Oh!" I did know the name. I certainly should, considering my family owned about half the media market in Chicago. "That's . . . great!" I wanted to ask a dozen follow-up questions about what he was doing there, but before I could organize my thoughts, he'd moved on.
"What about you? How did you end up in Chicago?" His tone was still casual, and I jumped at the chance to prove myself normal.
"I've lived there, on and off, since I was about five."
An awkward silence descended. So much for being normal. I figured I should go back to business. "So, are there any calls you'll need to know about immediately?"
"Technically, I'm on vacation. But I gave your number to a few crucial people, so I hope I can keep the calls to a minimum for you."
"It's no problem," I said in a rush. I didn't want to remind him of how annoyed he was earlier. "Whatever you need."
"You're being really nice about this."
"Well, it is my fault."
He laughed softly. "True."
Ouch. "It's actually my brother's fault, remember? He's the one who unplugged my phone—your phone at the airport."
"Right. Our scapegoat."
"I'm the girl who sort of fell on you," I confessed out of the blue.
"You are? Wait, how do you know that was me?"
Heat rushed up the back of my neck. "I . . . I may have looked at a couple of your pictures. I'm sorry! I know that was a total invasion of privacy, but I just wanted to know whose phone I had, and I'm really sorry."
"Clementine?"
"Yeah?"
"It's okay."
I didn't know what to say, so I made some kind of noncommittal noise.
"But now I get to look at yours."
My heart caught in my throat. He was right. It was only fair. But the idea scared the hell out of me.
When I didn't respond he asked, "Are you there?" He'd put me on speakerphone from the sound of it.
"Yes."
"Okay, hang on . . . let me just—wait a second, before I do this. How old are you?"
"Twenty-three, why?"
"Just didn't want to be a creeper."
I laughed. "Nope. You're in the clear."
"Okay then . . ."
My pulse beat in my ears while I waited.
"There you are. Oh yes, I remember."
"You barely looked at me." A nervous laugh slipped out, and every insecurity I have ever had in my life clamored for attention. "You must have a good memory."
"Not hard with that face."
Which is when I had to lie down or I was very possibly going to faint. So I fell back on the lounge chair's cushion. I managed to clear my throat. "Technically, you could mean that in a good way or a bad way."
"Do you want to know?"
"Um, no."
"Okay then. I guess you'll just have to wonder."
Was that flirting or was I imagining it? I could have sworn his voice had gotten warmer, maybe a little softer.
"Yeah, I definitely remember you," he murmured.
Was he still looking at pictures? My toes curled. "Well, at least we've sort of met, I guess."
"Sort of," he agreed.
"So, nice to meet you . . . again."
"Nice to meet you, too."
A silence fell between us then, and after a few breaths I couldn't stand it anymore. "Um . . . I guess I'll be in touch tomorrow."
"Sounds good. Have a good night, Clementine."
Ellie Cahill is a freelance writer and also writes books
for young adults under the name Liz Czukas. She lives outside Milwaukee, Wisconsin,
with her husband, son, and the world's loudest cat.
Related Posts