This book may be unsuitable for people under 17 years of age due to its use of sexual content, drug and alcohol use, and/or violence.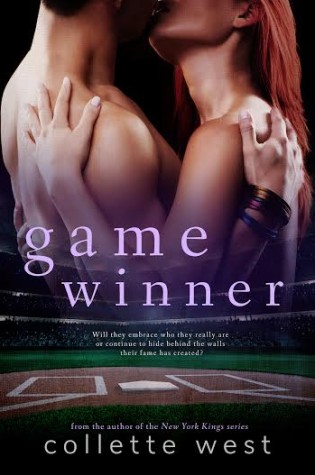 Game Winner
by
Collette West
Series:
New York Kings
Genres:
Romance
,
Sports Romance
Format:
eARC
Buy the Book
•
Playing center field for the New York Kings, Jake Woodbury has one of the most prestigious jobs in all of sports. To the world, he's the good-looking, soft-spoken minister's son who's survived celebrity without a hint of scandal. But, inside, he's reeling from a secret that seems destined to haunt him forever.

Scarlett Moore is one of the biggest pop stars on the planet, famous for singing about her celebrity ex-boyfriends. The CEO of her record label has carefully honed her provocative image since she was fifteen. Sex sells, and Scarlett's well aware that it takes more than talent to stay on top.

One thing is clear: She's the last thing Jake needs. And he's the do-gooder jock she should avoid at all costs. But when the game begins, all bets are off.
Game Winner
by Collette West
New York Kings
Publication Date: December 4, 2015
Genres: Adult, Contemporary, Romance,Sports
Purchase: Amazon | Nook | iBooks
A soft-spoken, private professional athlete who happens to be the  son of a minister and the biggest pop star on the planet who sings about her torrid affairs, her life is an open book…
They say opposites attract…what could possible go wrong?!?
OMG!  To think what could possibly go right!  I really liked this book!  It has all the oooooohs and the ahhhhhhhhs of a sweet and sexy Sports Romance!  The Game Winner was a definite winner for me! 
A lot of unanswered questions hang in the air, but for one glorious moment, when Scarlett's voice pierced through my troubled mind and touched the innermost region of my heart, I was able to forget all about my ex, Roberta Bennett. Jackson and Colt are wrong. The reaction I had to her voice was akin to something holy. Yeah, I've had strong feelings for a girl before, and I've been burned badly because of it. But there was something so remarkably pure and genuine about the whole encounter with Scarlett that I refuse to see it tainted. I take a knee and face the outfield wall. Bowing my head, minister's son that I am, I begin whispering the quick prayer I always say before the start of every game. "Dear Lord, please protect me and my teammates from injury and help us to play to the best of our ability in the field and at the plate." But, tonight, I don't stop there. I add in one last request. "And, God, if you really did send Scarlett Moore into my life for a reason, please give me a sign that she's someone worth taking a chance on." I release the breath I was holding. "Amen." I raise my head and immediately notice that Scarlett's on the big screen again, only she's somewhere in the stands this time, ready to watch the game. But, as the camera pans away, I put a hand down on the outfield grass to steady myself. Turns out she's sitting directly behind home plate, right next to Roberta.

 Collette West grew up as somewhat of a jock-nerd hybrid. Entering the world three weeks premature, her dad nearly missed her birth because he had seats behind the dugout for a sold-out, highly-anticipated match-up between two of baseball's biggest rivals. Not to be outdone, her book-loving mom taught her how to read by the time she was three. A love of the game coupled with an appreciation for the written word were instilled in Collette's impressionable brain from a young age. No wonder her characters believe in the philosophy: sports + romance = a little slice of heaven.
Splitting her time between the Pocono Mountains and Manhattan, Collette indulges her inner fangirl by going to as many games as she can from hockey to baseball and downloading every sports romance novel in existence onto her iPad. When she's not clicking away on her laptop, she enjoys walking her dog in Central Park, satisfying her caffeine craving at the Starbucks on Broadway and keeping an eye out for Mr. Right. But above all, she loves dishing with her readers. Email her at collette_west@yahoo.com.
She is the author of the New York Kings series which includes: NIGHT GAMES, GAME CHANGER, GAME ON, PERFECT GAME, INSIDE GAME and GAME WINNER.
Related Posts