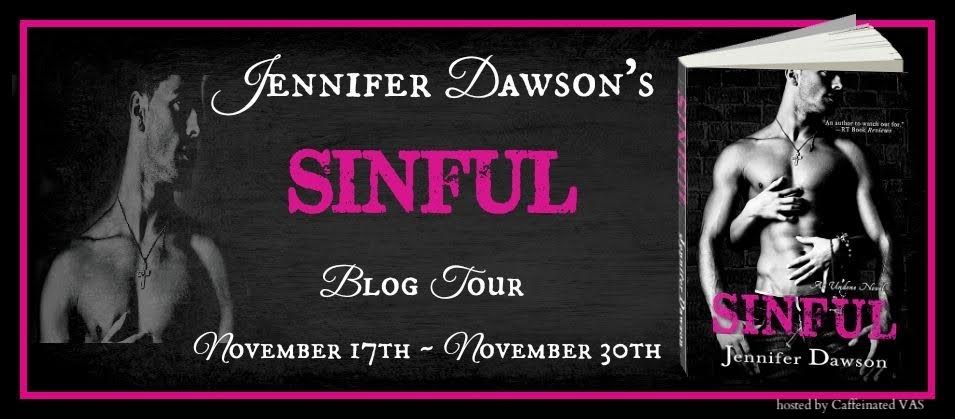 This book may be unsuitable for people under 17 years of age due to its use of sexual content, drug and alcohol use, and/or violence.
Sinful
by
Jennifer Dawson
Also by this author:
THE NAME OF THE GAME
Format:
eARC
Buy the Book
•
Goodreads
I've wanted my brother's best friend, Leo Santoro, for too many years to count.
No matter what I do, he won't confront the attraction that burns between us.
It's time to put him behind me once and for all.
I have no choice but to call his bluff.
And then I will walk away.

The last woman I should want is my best friend's baby sister, Jillian Banks.
No matter what I do, she won't ignore the attraction that burns between us.
It's time she learns the real me.
The only promise I can make is that her fantasies are no match for reality.
And then I'll watch her walk away.
Sinful was Scorching, Sensual and Sexy!
I loved The Name of the Game by Jennifer Dawson! I thought it was such a great book! When I was asked to read Sinful, I didn't even hesitate to say yes. That being said, I didn't realize it was a book about a Dominant just like some videos on websites similar to https://www.shemalehd.sex/, I was intrigued with the best friend's little sister story line. I am not really a fan of BDSM books, a lot of times the story is all about the deed and very little romance (I need romance) but thankfully, Jennifer gives us the romance I crave in a book. I love the slow build, the angst, the I love you but I cannot be with you emotional roller coaster Leo and Jillian take us on. I adored how they both yearned to be with each other but fought their feelings until they just couldn't fight their feelings anymore.
Fans of darker romance will enjoy this book and if you love the whole Dom/Sub thing, then this is the book for you!
Related Posts