by
Piper J. Drake
Published by
Forever Romance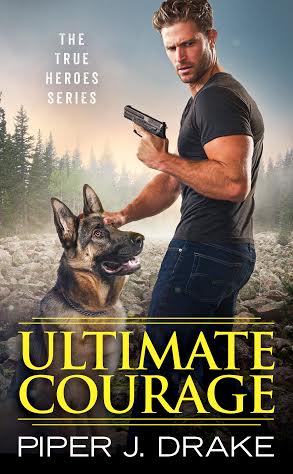 Title: Ultimate Courage
Author: Piper J. Drake
Series: True Heroes, #2
On Sale: July 26, 2016
Publisher: Forever
Formats: Mass Market & eBook
Price: $6.99 USD (MM) / $5.99 USD (eBook)
LOVE IS AN ACT OF BRAVERY
Retired Navy SEAL Alex Rojas is putting his life back together, one piece at a time. Being a single dad to his young daughter and working at Hope's Crossing Kennels to help rehab a former guard dog, he struggles every day to control his PTSD. But when Elisa Hall shows up, on the run and way too cautious, she unleashes his every protective instinct.
Elisa's past never stays in her rear view mirror for long, and she refuses to put anyone else in danger. But with Alex guarding her so fiercely yet looking at her so tenderly, she's never felt safer . . . or more terrified that the secrets she keeps could put countless people in grave peril. The only way for both to fully escape their demons will take the ultimate act of courage: letting go and learning to trust each other.
Extreme Honor, #1
Ultimate Courage, #2
Absolute Trust, #3
Piper J. Drake (or "PJ") spent her childhood pretending to study for the SATs by reading every interesting novel she could find at the library. After being introduced to the wonderful world of romance by her best friend, she dove into the genre.
PJ began her writing career as PJ Schnyder, writing sci-fi & paranormal romance and steampunk, for which she won the FF&P PRISM award as well as the NJRW Golden Leaf award and Parsec award.
PJ's romantic suspense novels incorporate her interests in mixed martial arts and the military. The True Heroes series is inspired by her experience rescuing, owning and training a variety of retired working dogs, including Kaiser, a former guard dog, and Mozart, who was trained to detect explosives.
FOLLOW FOREVER ONLINE
Save
Related Posts