This book may be unsuitable for people under 17 years of age due to its use of sexual content, drug and alcohol use, and/or violence.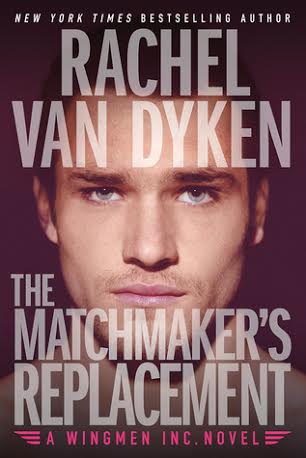 The Matchmaker's Replacement
by
Rachel Van Dyken
Also by this author:
Capture
,
The Matchmakers Playbook
Format:
eARC
Buy the Book
•
Goodreads
Wingman rule number two: never reveal how much you want them.



Lex hates Gabi. Gabi hates Lex. But, hey, at least the hate is mutual, right? All Lex has to do is survive the next few weeks training Gabi in all the ways of Wingmen Inc. and then he can be done with her. But now that they have to work together, the sexual tension and fighting is off the charts. He isn't sure if he wants to strangle her or throw her against the nearest sturdy table and have his way with her.



But Gabi has a secret, something she's keeping from not just her best friend but her nemesis too. Lines are blurred as Lex becomes less the villain she's always painted him to be…and starts turning into something more. Gabi has always hated the way she's been just a little bit attracted to him—no computer-science major should have that nice of a body or look that good in glasses—but "Lex Luthor" is an evil womanizer. He's dangerous. Gabi should stay far, far away.



Then again, she's always wanted a little danger.
The Matchmaker's Replacement
Rachel Van Dyken
(Wingmen Inc. #2)
Published by: Skyscape
Publication date: August 9th 2016
Genres: Contemporary, New Adult, Romance

The bigger they are, the harder they fall and that is what I love most about the Wingmen Inc. Series! I love to see the ultimate players brought down to their knees with love!  ♥♥♥
Enemies to lovers stories are my favorite!  I love the push and the pull, the angst and the sexual tension that comes along in this particular trope! Filled with witty banter and classic one-liners,  Lex and Gabi's path to romance was all that I hoped it would be and more!  I loved Lex, I mean how could I not?  I sexy, arrogant, computer geek?!?  YES PLEASE!!  Not to mention super funny, irresistibly handsome and underneath all that bravado was just a Prince Charming hiding in that villain facade just waiting for his Princess to come! This book was hot! 
Rachel Van Dyken is the New York Times, Wall Street Journal, and USA Today Bestselling author of regency and contemporary romances. When she's not writing you can find her drinking coffee at Starbucks and plotting her next book while watching The Bachelor.
She keeps her home in Idaho with her Husband, adorable son, and two snoring boxers! She loves to hear from readers!
Want to be kept up to date on new releases? Text MAFIA to 66866!

You can connect with her on Facebook www.facebook.com/rachelvandyken or join her fan group Rachel's New Rockin Readers. Her website is www.rachelvandykenauthor.com.
Save
Save
Save
Save
Save
Save
Related Posts