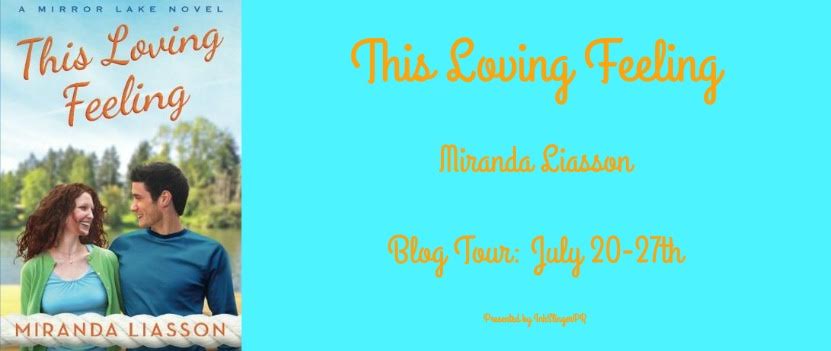 by
Miranda Liasson
Samantha Rushford's future looks bright: the high school art teacher is getting ready to leave Mirror Lake and move to Boston with her ambitious boyfriend, and she hopes a diamond ring is just around the corner. But her past still has a hold on her—especially the bittersweet memory of her rebellious ex, who kissed her passionately before he left town without a word.
Since then, Lukas Spikonos has parlayed his rebel ways into life as an up-and-coming recording artist. When he shows up for a surprise gig at the high school prom, Sam is more dumbstruck than starstruck—he used the words of a poem she wrote about their breakup to create a number one hit. But Lukas hasn't returned just to impress students; he's facing some real-life responsibilities and needs Sam's help. But she has her own unresolved issues about the life she wants to lead. Will the music—and the pull of true love and family—put their hearts back in harmony?
How could she get turned on by a guy in full clown makeup? Was that unnatural? She'd never flirted with a clown before. Come to think of it, she never wanted to again. Because it was kind of creepy.
"Okay, kids. Gather round," Lukas said, honking his clown horn. For right now, they were a rapt audience. And they would be, for as long as their attention spans held. Which, in her experience, was about ten seconds.
"Okay, hot assistant, get ready," he said in a low voice.
She shot him the stink eye.
"For this next part, my brainy assistant will lie down on this bench," he said out loud to the kids. He dragged a wooden picnic bench over from Meg and Ben's lawn table.
She cocked a brow. "Are you going to saw me in half?"
"Sweetheart," he said, his face very near, his voice rumbly and soft, "there's a lot of things I could think of doing with you all stretched out in front of me, but sawing you in half isn't one of them." He reached out a hand to help her into position. She lay down on the bench, her feet hanging over the edge, making sure her dress was tucked in.
"How are you feeling today, Samantha?" He bent over and stuck his big clown nose close to her face. She squeezed it. The kids laughed.
 "I feel great," she said warily. "And I'd like to stay that way."
"Open your mouth."
"You aren't going to try something, are you?"
"Oh, please," he said in a low voice. "If I try something, it isn't going to be in front of a yard of screaming five year olds."
He reached down near her ear and began to pull ribbon out of somewhere—multicolored, red, green, yellow, blue, on and on it flowed.
"What did you eat for breakfast?" he exclaimed loudly.
The kids thought that was hysterical.
"Um, a rainbow?" she answered. The kids roared. Apparently that was also funny. Score one for the brainy assistant.
He helped her up until she stood next to him.
"Thank you for being so clever, Vanna White."
"Go to hell," she said between her teeth, still smiling.
"Close your eyes."
"Bite me."
"I should have cut you in half," he mumbled. "Aw, come on. Close your eyes and hold out your hands."
She did. And an enormous pouf of vividly colored fake silk flowers showed up. Then he really did kiss her—on the cheek.
"Thank you, Spike the Clown. What's your next trick?"
"Um—I'm at a little loss right now. Any suggestions?"
"Can you spin plates? Balance a long stick on your chin? Ride a unicycle?"
"No, no, and no."
"What kind of clown are you?"
"Um, a pathetic one? But I'm the only one they've got, so I'll be right back."
Even as he spoke, he was running toward the house. Which left her thinking she'd be doing something horrible to him in his sleep tonight if he wasn't coming right back. While he was gone, she had the kids play a quick game of duck, duck, goose.
He returned with his guitar. His Gibson. Just in time, because one of the little girls fell chasing one of the other kids and was now crying.
He walked around the kids, playing "Old MacDonald," getting them to make all the animal noises. He did a soulful version of "On Top of Spaghetti" and ended with "You Are My Sunshine." By the end, all the adults were gathered around, unable to resist. It was so unfair that the package of sexy hot man also had the voice of an angel.
Next he blew up balloon animals, one for each kid—dogs, swords, flowers, even a poodle. Not bad for a minute's notice. Finally, the show was over and Meg called all the kids over to a long table set with a bright yellow tablecloth for hot dogs and cake.
"You can carry a tune," Sam said as she helped Lukas clean up the clown props. "You're like the Pied Piper of rock-star clowns. You had everyone mesmerized, mommies and kiddies alike."
"I'd like to have a chance at mesmerizing you," he said, waggling those big clown eyebrows again and looking unabashed.
"Stop flirting with me." But she couldn't muster up enough steam to really mean it. Plus she was struggling not to smile.
He looked up from stuffing all the leftover balloons into a bag. His dark, soulful eyes, even surrounded in clown makeup, flared with something. Mischief? Or something darker. He shrugged. "Quit eyeing me like I'm nothing more than a piece of meat. It's shameful."
Her face heated. "I am not looking at you like that. I mean, come on, clowns are not hot." But this one sure was.
He got up in her grill. The ridiculousness of that damn clown nose and the streaky white makeup made her want to laugh crazily at the madness of it all. But his eyes anchored her and she could not look away.
"Have you not heard of personal space?" Sam asked weakly. "Back up, Clown."
"I try but I just can't seem to stop myself," he whispered in a velvety voice that sent shivers up her arms.
"Well, try harder," she said, steeling her voice. Except it did crack a little at the end. "It's irritating."
"All clowning aside, Samantha," he said, taking off his clown nose and sticking it on her nose. "No can do." Then he walked away, chuckling at his joke.
Nonsense aside, a list was building in her brain. Funny. Kind to Stevie, even when irritated. Great with kids. Hot as hell. She couldn't reconcile this adult version of him with the carefree rock star who wanted a fling. And she couldn't help feeling the joke was on her.
Miranda Liasson loves to write stories about courageous but flawed characters who find love despite themselves, because there's nothing like a great love story. And if there are a few laughs along the way, even better! She's a former Golden Heart winner who writes series romance for Entangled Publishing and lighthearted contemporary romance for Montlake Publishing. She lives in the Midwest with her husband, three kids, and Posey, a rescue cat with attitude.
Links:
Author Website: www.mirandaliasson.com
Author Blog: http://www.mirandaliasson.com/blog/
Author Twitter: : https://twitter.com/mirandaliasson
Author Facebook: : https://www.facebook.com/MirandaLiassonAuthor
Personal Facebook Page: https://www.facebook.com/miranda.liasson
Author Goodreads: https://www.goodreads.com/author/show/10716626.Miranda_Liasson
Newsletter: http://www.mirandaliasson.com/#mailing-list
Pinterest: https://www.pinterest.com/mirandaliasson/
Pinterest board for the book: (https://www.pinterest.com/mirandaliasson/a-man-of-honor/
July 20th
What Is That Book About Excerpt
I Love Romance Review
Fictional Rendezvous Book Blog Guest Post
July 21st
Margie's Must Reads Excerpt
The Recipe Fairy Excerpt
Book Readers Anonymous Review
July 22nd
For the Love of Books & Alcohol Excerpt
Guilty Pleasures Book Reviews Review
Bookworm Dee Reads Excerpt
July 23rd
Ellesea Loves Reading Excerpt
Evermore Books Excerpt
July 24th
With Love for Books Review
Socially Awkward Book Nerd Excerpt
July 25th
East coast book chicks Review
Romance Book Nerd Excerpt
EskieMama Reads Review
July 26th
Alpha Book Club Review
July 27th
2 girls who love books Excerpt
The Phantom Paragrapher Review
G & T's Indie Café Excerpt
Save
Related Posts