This book may be unsuitable for people under 17 years of age due to its use of sexual content, drug and alcohol use, and/or violence.
Sidebarred
by
Emma Chase
Also by this author:
Overruled
,
Sustained
,
Appealed
,
Royally Screwed
,
Royally Matched
,
Royally Endowed
,
Royally Yours
Genres:
Chic-Lit
,
Contemporary Romance
There was a time when Jake Becker had it all together. He was controlled, driven, ruthless—in and out of the courtroom.
Then, six irresistible orphans and their heartbreakingly beautiful aunt crashed into his perfectly ordered life. They changed everything. They changed him. Now he's a husband, an upstanding member of society, a father figure—a family man.
And he's pretty damn good at it.



Sure, he has to referee sibling smackdowns, re-learn algebra, ensure his clients stay of jail, and keep his wife happy—but it finally feels like he's got it together again….



So, of course something has to screw it all up.



It's huge. Life-changing. Kind of terrifying.



And it will be the most amazing, perfect thing he'll ever do.



Join Jake & Chelsea, Stanton & Sofia, Brent & Kennedy as they navigate the hilarious and heartwarming hurdles of love, life and the law in this final addition to the Legal Briefs Series.
Sidebarred is so sweet and sexy!  This book is perfect! I loved every single word!! Jake and Chelsea are such awesome characters together but the actions of Jake Becker make me swoon!! I love him so much!! He is the best dad he didn't have to be, he is the best husband he never thought he could be and he is the best friend ever!  I'd venture to say he is pretty near perfect. *swoon*  I never want this series to end!! I love this crew!! Thank you Emma for making us laugh and making us cry and making us fall in love over and over again! Legal Briefs is one of the BEST contemporary romance series I have ever had the pleasure of reading. I adore it!
I LOVE JAKE BECKER!!!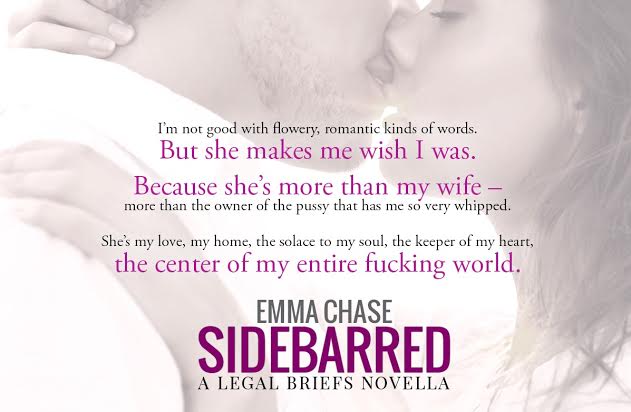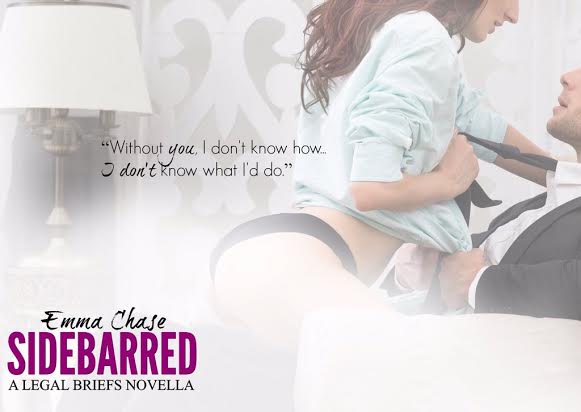 "Because she's more than my wife. She is my love, my home, the solace of my soul, the keeper of my heart, the center of my entire fucking world.
"You know the difference between a scalding and frostbite? A burn takes off the skin. Frostbite will take your whole fucking limb off."
"I don't remember exchanging rings with a fucking caveman!" "Then you weren't paying close enough attention."
"You're pretty great at the dad stuff too."
Related Posts