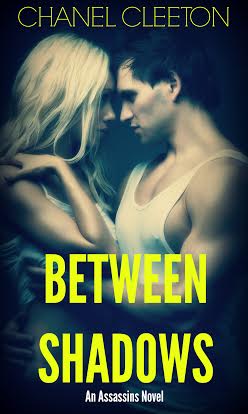 Between Shadows
by
Chanel Cleeton
Series:
An Assassins Novel
Also by this author:
Flirting with Scandal
,
Playing With Trouble
,
Falling for Danger
,
Fly Withe Me
,
Into The Blue
,
On Broken Wings
on January 19, 2016
Format:
eARC
Buy the Book
•
Goodreads
A sexy new thriller about love and revenge from the author of the Capital Confessions and International School series…



X lives by three rules: Show no weakness. Trust no one. Don't get caught. She lives by the rules they gave her.



The Academy—set in London, shrouded in secrecy—it trains spies, computer experts, and assassins. Their mission? Dispensing justice and altering the course of world politics. Or so they think. In a world where secrets are weapons and some kills are impossible to forget, everything X thought she knew about her life is about to change.



They taught her to fight. To blend into the shadows like a ghost, to operate on the fringes of society, to change her identity with ease. They taught her to kill.



She'll need every skill they taught her, to stay alive.
I was pleasantly surprised with how much I enjoyed Between Shadows. I fell in love with Chanel Cleeton's Capital Confessions last year and I was excited to know there was another series in our mist. I will be honest when it was described as a thriller, I was a little leery, I am a hardcore Romance Girl and I wasn't sure I had it in me to read this one and like it.  But I did read it and I loved it!  Like really, really thoroughly enjoyed and hung on every word loved it! It was a page turner! Between Shadows is the perfect blend of thrills, chills, and romance.
Related Posts